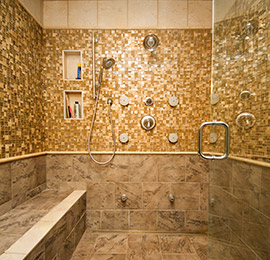 Oswald Construction is an award-winning General Contractor company based out of Winnipeg, Manitoba
Present owners, Ralph and Doreen Oswald, have been operating the family-owned business since 1995. The founder of Oswald Construction, Karl Oswald, started the business in the 1950s. Karl retired in 1997 and his son Ralph, carried forward the work ethic taught to him by his father.
As the economy of Winnipeg and Manitoba started to grow, the renovation industry started to grow quickly along side it. The consumers' needs changed from minor upgrades and repairs to more extensive renovations, and Oswald Construction swiftly responded to this change in the market place.
Through the 1990's and into the 2000's as home owners dreamed of bigger kitchens, family rooms and designer bathrooms, we were there as their partner. Our team consists of project managers and staff carpenters. This allows us to achieve a high standard of quality and keep our finger on the pulse of any project. Our team is dedicated to providing a high level of client service, from your first phone call to your final walk through.
The future in the renovation market promises growth and challenge as we deal with the advances in technology, design and the ever increasing knowledge of our clients.
Professional Certifications